Articles
10 Reasons To Try Streaming Adult Ballet Class
Since 2012, Align Ballet Method has specialized in adult ballet training, and to date, sixty-percent of our revenue was earned from training total beginners. In the beginning of 2020, we had just begun to train roughly 250 new adult beginners, until the coronavirus pandemic descended upon South California. Like most Angelenos, I was in a daze; It felt like we had been hit by a meteor. Yet, I am proud to report we closed our business one week prior to the Los Angeles city mandate out of concern for the health and well being of our community. That proved to be a wise decision.
For the first few weeks I felt a loss—gathering together for daily class is what we do. Then, I heard that some studios were still holding classes by streaming them on Zoom. 
I thought, "Oh God, why would anyone want to do that? Who wants to dance in their living room? 
After a few more weeks in lockdown, I watched as online classes caught fire. Apparently, many people want to attend streaming classes. 
Still, I was skeptical. How was I going to teach on this new platform? It appeared to be such a disconnected way of communication.
Thankfully, I am here to report I was wrong. After navigating some technical issues and transitioning to this new format, I began to truly enjoy my streaming classes, and I think you might enjoy them too.
I sincerely invite you to try a streaming class with ALIGN. We offer a peaceful and fulfilling workout you can do right at home, for both experienced dancers and total beginners. Did I mention it's only $10 and we have committed 10% of our streaming revenue to the Los Angeles Food Bank. In May we raised $1030.
TOP 10 REASONS TO TRY A STREAMING BALLET CLASS!
IT'S NOT AS BAD AS YOU THINK
Like most people, I was skeptical and resistant to the idea of a virtual dance class. (I'm old school.)  A virtual ballet class seemed like attempting to water ski in a parking lot—it did not make sense! However, once I began teaching, it immediately felt fairly normal. It was the same people I had been working with previously. I didn't hate it. And, despite limited space and equipment, our students didn't hate it, either. They have been very enthusiastic regarding the experience and left many positive comments on our feedback service. Most importantly, I have actually seen improvement in some of my regular students after only a few at-home classes.
STREAMING IMPROVES FOCUS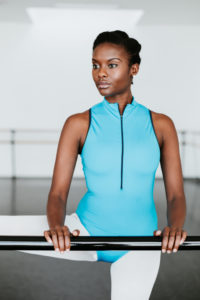 I have heard that working from home comes with the added difficulty of many distractions. But, I have not found that to be the case with our classes. In fact, I have found a surprising increased level of concentration from my students. In general, adult ballet students—especially beginners—can have difficulty concentrating. Focus in a ballet class is a learned skill, and new students generally underestimate the level of mental energy it requires. Because ballet appears so effortless, dancers seem to be floating through choreography without a care. I promise you: if you could chart a dancers brain activity, it would look like the New York Stock Exchange on a volatile trading day! Ballet is intense. The beauty of streaming classes is that it allows the student to better focus on a monitor instead a dance studio with many distractions. I also sense at home students feel less self conscious which frees their mental concentration.
THE SOUND IS STRONG
Our system integrates directly with Spotify, so I am able to use some of my favorite ballet class music. The technology also integrates with Apple airpods, which double as a microphone. My vocals stream through the broadcast and the music quiets slightly when I speak. After reviewing our recordings, I noticed my vocals were very clear and the music quality was excellent. I would recommend using airpods synced with your bluetooth for the ultimate audio class experience. 
ANYONE, ANYWHERE MAY ATTEND
Our community of students is diverse and international. It has been exciting to meet ballet lovers from all over the globe. Over the past seven years, many have come and gone. Now that we are streaming, many of our old students are returning in a new way. We have one joining us regularly from Ireland. I am also excited to connect with thousands of new students within our virtual reach. It's a pleasure to have such a diverse community bond through the beauty of ballet. I remember a young woman coming to my class one day crying, "In my country women don't dance. We are not allowed. There are no dance classes for us. This is why I have come to Los Angeles and ALIGN. Hopefully streaming will break those old barriers.
SIGN UP FOR VIRTUAL BALLET TODAY
Ready to give Virtual Ballet a try? Sign up for one of our Virtual Beginning Ballet or Virtual ALIGN 4 online classes today!
NO COMMUTE
Admit it, you love the class but sometimes you hate the drive. How often have you missed a favorite class because of a sudden disruption at home or work? Last minute disruptions no longer mean missing your class. Streaming provides options that were once impossible.
STREAMING GIVES YOU MORE PRIVACY
Lets face it—learning ballet is difficult, and can be stressful. I consider it a process of growth, and  all growth takes a little unease at times. Beginning students in particular can feel emotional or vulnerable when learning a new way of moving in a new environment. After all, in a studio you are in a public space, sometimes in front of strangers and in tight clothing! I totally get it, it can feel vulnerbale. Our streaming platform adds a level of privacy. If you choose to turn off your video, you may take class and not be seen. It's perfect for those who may feel shy and exposed in a traditional dance class.
RESULTS ARE RESULTS!


To my surprise, my students are improving even though they aren't taking in our beautiful studio. I have seen some of my students improve flexibility, stamina, and mental focus. It is inspiring that we can continue to cultivate our craft even though we are not in close proximity. I have found if there is willingness and curiosity in the student, the format is not as important. If you are looking for results, I invite you to try a class. And, with the low price of $10, you can take more frequently. Some of our students come twice a day! I have seen great progress and dedication thus far and I am motivated  to keep going.
IT'S INSPIRATIONAL


I've been an onstage performer all my life, so I'm inspired by people coming together to appreciate dance. Now I can see students from all over, coming together and bonding over our shared love for movement. In these dark and somewhat uncertain times, I find some daily inspiration in our classes. If you're in need of beautiful music and peace and quiet in this stressful time, Align classes may help you chill out.
CAMERAS IMPROVE THE DEMO


The most exciting discovery I made while steaming classes was the learning potential of using a quality camera. To capture demonstrations, I love walking close to the camera and being able to illustrate and arm or hand in great detail. The camera acts as a magnifying glass which helps the students see up close what they might not see from across the studio. I am able to highlight very specific areas of the body and minor mechanical details. 
10% GOES TO THE LOS ANGELES FOOD BANK
Our online streaming classes have had a huge response and I am so grateful. Not only are we able to keep teaching ballet to our students, but additionally, one dollar from every streaming registration will be and donated to the Los Angeles Food Bank (www.lafoodbank.org). These are difficult, scary, unprecedented times. I am proud that Align will be to be able to make a donation to a charity in this time of need. 
I'm grateful to have taken action and converted our classes to online streaming during this new chapter in our business. We hope to see you in our Zoom classes soon. Thank you for your support of a local small business. Now, get online and attend classes from your living room. I promise it will boost your spirits. Stay strong! 
—Michael Cornell, Align Ballet Method Founder
OUR INSTRUCTORS ARE AMAZING. SEE THEM IN ACTION BELOW!
SIGN UP FOR VIRTUAL BALLET TODAY
Ready to give Virtual Ballet a try? Sign up for one of our Virtual Beginning Ballet or Virtual ALIGN 4 online classes today!